Right Side
1
2
3
2
4
7 8
3
5 6
1
Headphone Output Jack
The stereo headphone jack (1/8 inch) is used to connect
the Notebook PC's audio out signal to amplified speakers or
headphones. Using this jack automatically disables the built-in
speakers.
SPDIF Output Jack
This jack provides connection to SPDIF (Sony/Philips Digital
Interface) compliant devices for digital audio output. Use
this feature to turn the Notebook PC into a hi-fi home
entertainment system.
Microphone Input Jack
The mono microphone jack (1/8 inch) can be used to
connect an external microphone or output signals from
audio devices. Using this jack automatically disables the
built-in microphone. Use this feature for video conferencing,
voice narrations, or simple audio recordings.
USB Port 3.0
The USB (Universal Serial Bus) port is compatible with USB
3.0, 2.0, or USB 1.1 devices such as keyboards, pointing
devices, cameras, hard disk drives, printers, and scanners
connected in a series up to 4.8Gbits/sec (USB 3.0),
480Mbits/sec (USB 2.0), and 12Mbits/sec (USB 1.1). USB
allows many devices to run simultaneously on a single
computer, with some peripherals acting as additional
plug-in sites or hubs. USB supports hot-swapping of devices
so that most peripherals can be connected or disconnected
without restarting the computer.
Comb
o
20
Notebook PC User Manual
5
6
4
7
Optical Drive
The Notebook PC comes in various models with different
optical drives. The Notebook PC's optical drive may support
compact discs (CD) and/or digital video discs (DVD) and
may have recordable (R) or re-writable (RW) capabilities.
See the marketing specifications for details on each model.
Optical Drive Electronic Eject
The optical drive eject has an electronic eject button for
opening the tray. You can also eject the optical drive tray
through any software player or by right clicking the optical
drive in Windows "Computer" and selecting Eject.
Optical Drive Emergency Eject
(location varies by model)
The emergency eject is used to eject the optical drive tray
in case the electronic eject does not work. Do not use the
emergency eject in place of the electronic eject.
Power (DC) Input
The supplied power adapter converts AC power to DC
power for use with this jack. Power supplied through this
jack supplies power to the Notebook PC and charges the
internal battery pack. To prevent damage to the Notebook
PC and battery pack, always use the supplied power
adapter.
The adapter may become warm to hot when in use. Ensure not
to cover the adapter and keep it away from your body.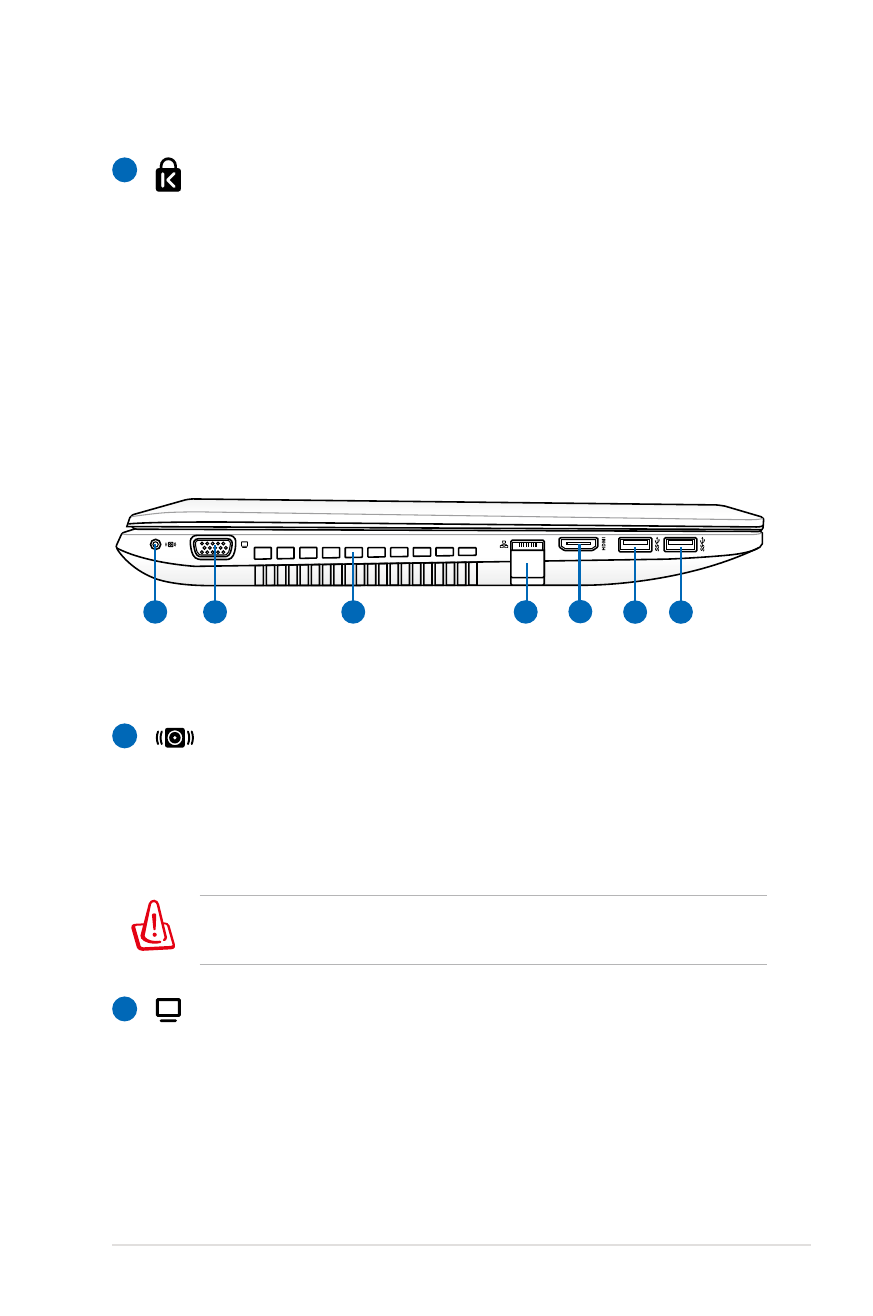 Notebook PC User Manual
21
1