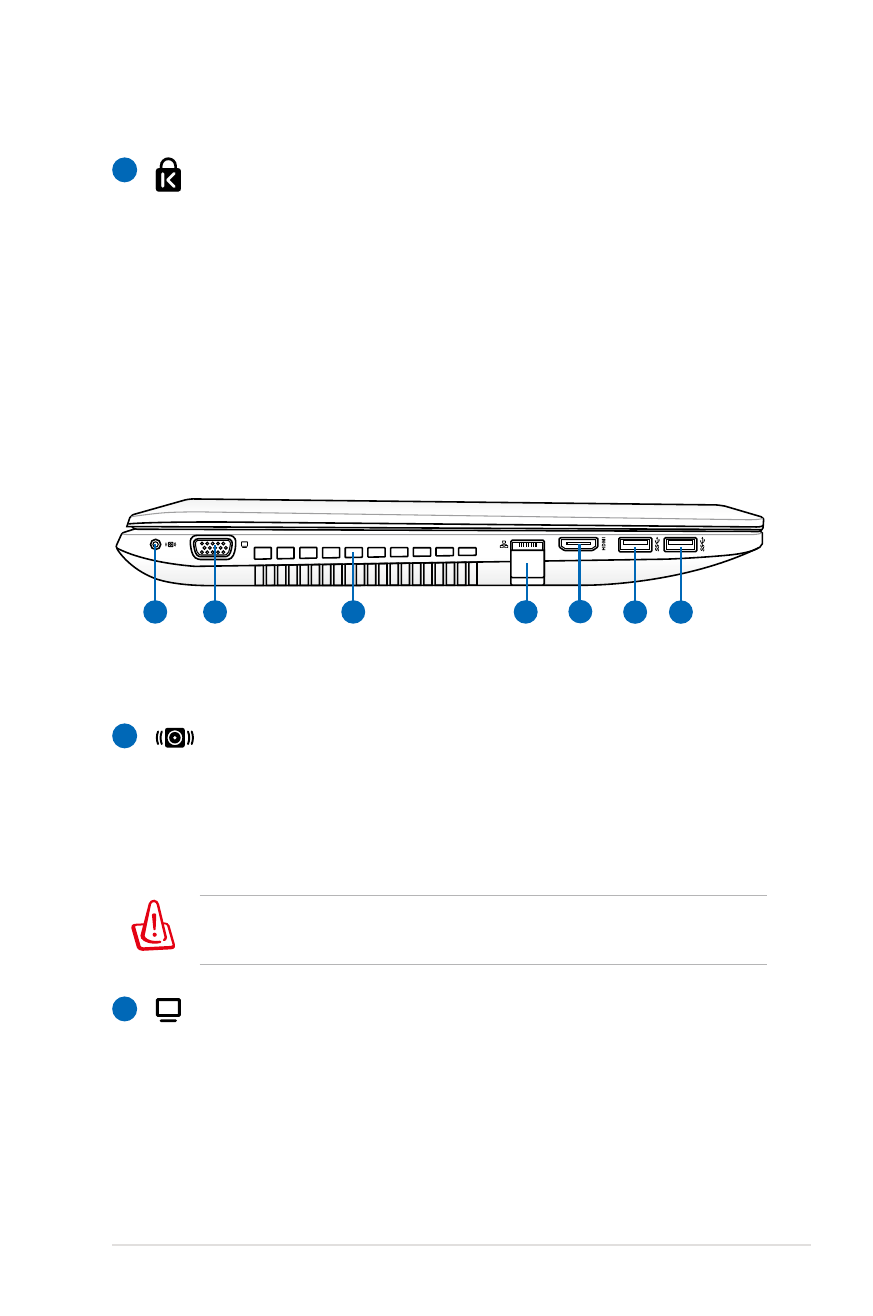 Left Side
Subwoofer Jack (on selected models)
The proprietary subwoofer jack is used to connect the
subwoofer that comes with your Notebook PC ONLY.
The subwoofer allows you to enjoy amazing bass (low
frequency) sounds in your multimedia applications.
4
5
1
3
2
6
7
Kensington® Lock Port
The Kensington® lock port allows the Notebook PC to
be secured using Kensington® compatible Notebook PC
security products. These security products usually include
a metal cable and lock that prevent the Notebook PC to
be removed from a fixed object. Some may also include a
motion detector to sound an alarm when moved.
DO NOT connect other device to this jack. Doing so may damage
the subwoofer jack or the Notebook PC.
8
Display (Monitor) Output
The 15-pin D-sub monitor port supports a standard
VGA-compatible device such as a monitor or projector to
allow viewing on a larger external display.
2
22
Notebook PC User Manual
5
LAN Port
The RJ-45 LAN port with eight pins is larger than the RJ-11
modem port and supports a standard Ethernet cable for
connection to a local network. The built-in connector allows
convenient use without additional adapters.
HDMI
HDMI Port
HDMI (High-Definition Multimedia Interface) is an
uncompressed all-digital audio/video interface between
any audio/video source, such as a set-top box, DVD player,
and A/V receiver and an audio and/or video monitor, such
as a digital television (DTV). Supports standard, enhanced,
or high-definition video, plus multi-channel digital audio
on a single cable. It transmits all ATSC HDTV standards and
supports 8-channel digital audio, with bandwidth to spare
to accommodate future enhancements or requirements.
USB Port 3.0
USB Port 3.0
USB Charger+ (on selected models)
Allows you to charge your mobile phones or digital audio
players while your Notebook PC is sleeping, hibernating or
shut down.
6
4
3
Ensure that paper, books, clothing, cables, or other objects do not
block any of the air vents or else overheating may occur.
Air Vents
The air vents allow cool air to enter and warm air to exit the
Notebook PC.
7
Notebook PC User Manual
23